2000 AD #1400
(Rebellion)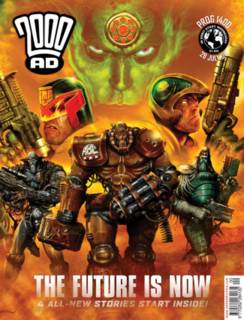 Birds of Prey #72
(DC Comics)
"Between Dark and Dawn" continues in the fourth of six biweekly issues! Vixen and Huntress fight their way to a faceoff with Sovereign Brusaw, Canary races through Gotham trying to prevent a series of cult-inspired suicides…and you won't believe who Oracle's about to fight!
Daredevil #63
(Marvel Comics)
"The Widow," Part 3 (of 4)
With the Black Widow back in Matt Murdock's life, Daredevil finds he now has two targets on his head. And a brutal new enemy...Quinn.
Manhunter #1
(DC Comics)
Kate Spencer is a top federal prosecutor, one of the best lawyers in L.A., and the most driven woman alive. The prosecution of super-villains is her life's work — and the fact that they never go away for good has begun to torment her. When a case she's lost leads to the murder of innocents, Kate makes her move — a move that shocks her more than anyone.
Breaking the laws she's upheld for so long, Kate raids an evidence locker of confiscated metahuman weaponry. Raging into the night, tracking the perp who's eluded justice in the courts, she delivers a long-overdue eye for an eye! She's found her true calling. She is the Manhunter. And she likes it!