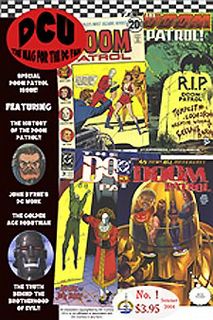 DCU #1
, published by Excaliber Press, is the first issue of a fanzine devoted to DC Comics and their characters. The first issue focuses on the Doom Patrol, with articles about every incarnation thus far, including the latest controversial version by John Byrne.
One of these articles,
"Doom Patrol: The Original Hard-Luck Heroes"
, was written by me and deals mostly with the first team that made it's debut in
My Greatest Adventure
.
DCU #1
is 32 pages and priced at $3.95.
Contents:
The New Old Doom Patrol! (a look at Byrne's revival)

The Doom Patrol: The Original Hard-Luck Heroes*

Kingdom of the Weird: Morrison's Doom Patrol

Hero History: The Golden Age Robotman

8 Against Infinity (The DP/Challengers X-over!)

Villain Vital Statistics (The Brotherhood of Evil)

Byrne-ing Down the House: John Byrne's Other DC Work

Review: The Doom Patrol Archives

The Lost Doom Patrol (a look at the FIRST DP revival)

SUPERMYTHOLOGY (iconic images in DP)

Collecting DC (column by Jim Main on collecting DC merchandise)

PLUS: Trivia! Little known facts! and Fan Art!
I'm anxiously awaiting my complimentary copies so I can read all the other articles. I'm not only a writer... I'm a reader, too.
To order a copy or get more information about
DCU #1
,
go here
.