In my last two blogs about
Hard Case Crime
I reported of their first four books,
Grifter's Game
,
Fade to Blonde
,
Top of the Heap
and
Little Girl Lost
. Somehow I managed to skip over talking about the two books released in November.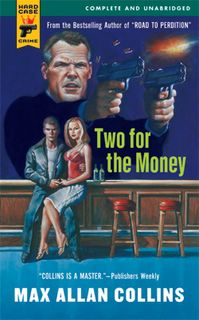 "Two For the Money" is written by accomplished crime-fiction writer Max Allan Collins (Road to Perdition), who's written not only crime novels but his share of Batman books. The cover is done by Mark Texeira, also known for his comic work, especially his run on Wolverine.
Here's the blurb for the book:
"To wipe the slate clean with an old enemy, professional thief Nolan agrees to pull one last bank heist — but when he's double-crossed, he'll stop at nothing to get back what's his. Fortunately, Nolan has a couple of things going for him: an uncanny knack for survival and an unmatched hunger for revenge..."
It sounds like a fun ride.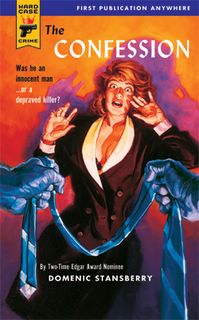 Then we have "The Confession", written by Domenic Stansberry with a cover by Richard B. Farrell. I don't know much about these creators, but the book does look to be interesting:
"Jake Danser has it all: a beautiful wife, a house in the California hills, a high-profile job as a forensic psychologist. But he's also got a mistress. And when Jake's mistress is found strangled to death with his necktie, it's up to him to prove he didn't do it. But how can he, when all the evidence says he did?"
I must add that
Hard Case Crime
has a sample chapter, usually the first, for each of their books available online. Read a few and see if they're to your liking.
The next set of books are due to be released in March.
Hard Case Crime is one endeavor that I hope to see make it work. It would be nice to see an outlet for hardboiled crime-fiction that's not only enjoyable and easy to afford but also easy to find. I don't think I've ever seen a pulp cover in a Wal-Mart before. But now I have. And maybe that mass distribution will not only find the eager hands of those who starve for such entertainment but it may also lead to several others becoming new fans of the genre.