In a press release today,
Hard Case Crime
announced that "the lead title of our second year is a new book called
THE COLORADO KID
by... Stephen King."
THE COLORADO KID
also features a cover by Glen Orbik.
This is indeed a great sign for the company.
More info about
THE COLORADO KID
from the announcement:
"Needless to say, we're very excited to be publishing this book. It's an unusual book for Steve and an unusual one for us -- you'd be hard-pressed to call it hardboiled; it's certainly not a horror story (except perhaps in a metaphysical sense); and one of the big mysteries it poses is whether it's actually a crime story at all. And yet...and yet...when you read it, you'll understand why it's such a perfect fit for our line. Not since Mr. Flitcraft had his fateful encounter with a falling beam in
THE MALTESE FALCON
has there been as memorable an exploration of the way in which the world of "clean orderly sane responsible affairs" (in Hammett's words) are just a small step away from an undreamt-of world of darkness. Though Steve has said "
THE COLORADO KID
is probably more 'bleu' than outright 'noir,'" it's exactly that shade of midnight blue -- "bleu de minuit"? -- that colors the very best pulp crime novels."
COLORADO KID
is due out in October.
Currently Hard Case Crime is halfway through the first year. Six books have been published to date with two more coming out this week:
HOME IS THE SAILOR
by Day Keene, and
KISS HER GOODBYE
by Allan Guthrie.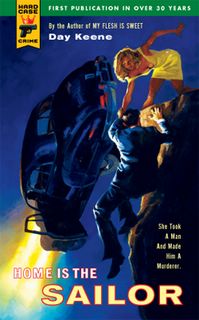 Cover art by Richard B. Farrell, Gregory Manchess.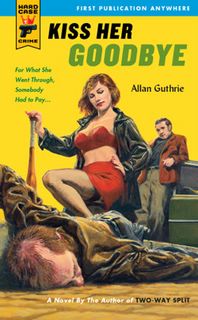 Cover art by Chuck Pyle.
Be on a lookout for these two books arriving this week in bookstores everywhere.
Hard Case has also revealed plans for their second year beyond Stephen King's book. Plans that include
THE GIRL WITH THE LONG GREEN HEART
by Lawrence Block (November, with a cover by
Robert McGinnis
),
THE GUTTER AND THE GRAVE
by Ed McBain (December, with a cover by Rick Farrell) and
NIGHT WALKER
by Donald Hamilton (January, with a cover by Tim Gabor).
After that, they're expecting to bring out a book a month for the rest of 2006.
Things are looking good for them. I'm definitely going to be there every step of the way.