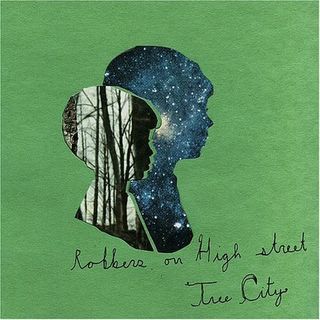 So I made my bi-weekly trip to the record store a few days ago and picked up
Robbers on High Street
's cd,
Tree City
.
I've come across a bunch of reviews for Robbers on High Street that have written them off as a copy of Spoon. Since I have not heard Spoon, I can't say.
I've also read comparisons to the Strokes. While that may be possible, I don't really see it as much. If anything they sound more like a young Billy Joel fronting Maroon 5 after listening to a bunch of Dave Matthews.
I had heard "Japanese Girls" on the radio and thought it was pretty catchy. However, the real highlights are "Beneath the Trees" and "The Price and Style", the latter of which brought forth images of a dusty independent film with a foreign lady shuffling her feet in a small apartment to the music while clothes hang out to dry.
Another great track is "Killer Bees" with it's twangy and dirty sound. It's dingy beauty at it's best.
My only real complaint about
Tree City
is that most of the songs are under three minutes which is normal for punk rock, but I'd love to hear them play something a bit longer. Maybe get crazy with the instruments for a bit.
I also came across a free online indie music magazine called
Underrated
. I first ran upon them by seeing Warren Ellis plug them on his
blog
. I didn't really think much of it at the time. I just sorta filed it away as reference. Then I discovered that Robbers on High Street are interviewed in #5. So I went and downloaded all the issues. And since they're not that big I could print them out for offline viewing. Of course with a black cartridge the cover comes out looking kinda crappy, but the rest of the issue is easier on the eyes.
Now for the music:
Beneath the Trees
Hudson Tubes
For more MP3s and info go to Robbers on High Street's
myspace page
.
I also found a blog with one of their older songs, "Hot Sluts (Say I Love You)". Go
here
to find it.