Now that I'm caught back up with my comic orders, it's time to bring back this little feature of my blog.
This is where I pick out the books shipping this week that I think are worth checking out.
And, yes, these are generally books I'm planning to get, myself.
This week we have:
SEVEN SOLDIERS: SHINING KNIGHT #1
Written by Grant Morrison
Art and cover by Simone Bianchi
(1 of 4)
Get ready for a miniseries best described as The Lord of the Rings meets The O.C.! Visionary writer Grant Morrison and artist Simone Bianchi (Marvel Italia's Conan the Barbarian, The Ego Sum Trilogy) continue the 30-part SEVEN SOLDIERS saga with the 4-issue SEVEN SOLDIERS: SHINING KNIGHT, a modern fantasy epic!
Though twilight and red ruin falls on Camelot, the Knights of the Broken Table stand ready to battle the forces of the Beyond. Little do they realize that the only one within their spent and bloodied ranks who can save what remains of their world is 16-year-old Sir Justin, a teenaged warrior who, with his winged horse Victory, finds himself thrust into the maddening world of the 21st century to save the future of all mankind! And the best place to start the battle? Sunset Boulevard in Los Angeles, of course!
32 pg, $2.99
It's no surprise that I'm looking forward to this- the first mini-series that continues the Seven Soldiers story. And from what I've seen of the preview, it's gonna rock!
I read somewhere that another side to this event is that DC hopes that Morrison can turn at least one of these characters into a strong enough lead to carry their own book. So this could be the beginning of something big here. Besides the already epic-sized story, of course.
Preview SEVEN SOLDIERS: SHINING KNIGHT #1 here.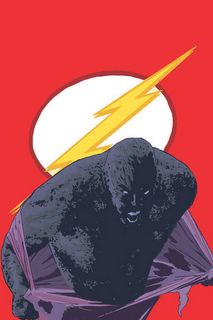 GOTHAM CENTRAL #29
Written by Greg Rucka
Art by Stefano Gaudiano
Cover by Michael Lark
Montoya and Allen must pursue the origins of an abandoned lab in Gotham...even if the trail leads them to Keystone City, home of The Flash! Meanwhile, the policeman transformed after entering the lab has begun evolving again . . . but into what?
32 pg, $2.50
I don't know if this Dr. Alchemy story is my cup'a'tea... But it is an interesting take on criminals and their hideouts. I just wonder if Rucka can continue Gotham Central without Brubaker and Lark.
It would appear that Stefano Gaudiano is doing a good job of filling Lark's shoes, but I can't help feeling something's missing.
Preview GOTHAM CENTRAL #29 here.