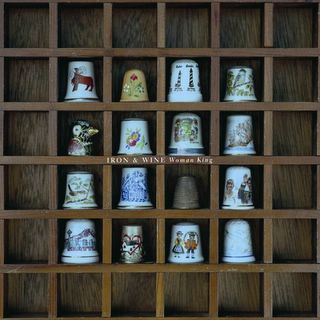 On my bi-weekly trip to the record store I picked up Iron & Wine's latest EP,
Woman King
.
Aside from Ben Folds, I don't think I've ever heard a man be as poetic as this. Some parts of his music even struck me as a bit like Tori Amos.
Iron & Wine is one man, Sam Beam, and
Woman King
is recorded on
Sub Pop Records
.
The title track starts off the batch of songs and proves why it's become as popular as it has. I know I turn the stereo up whenever it comes on. It's just so powerful. Almost like a new breed of southern rock. And I mean
southern
.
"Jezebel" starts off sounding a bit like Jewel but easily becomes one of the best songs on the cd. A beautiful track that truly shows off Beam's talent with emotional ballads.
"Freedom Hangs Like Heaven" has become my second favorite song on the album. Giving the story of Jesus and Mary a nice refreshing (and non-preachy) take it also has a sound that seems reminiscent of old folksongs. It could easily pass as a modern day (corporate) slave song, sounding a bit like a mix of Tracy Chapman and latter day Emmylou Harris. Excellent writing.
Woman King
only has six tracks on it as it is an EP, but it's well worth picking up. Beam is a great singer/songwriter who deserves to be heard.
Since there are so few songs on the EP, I'll only be offering one mp3 from it.
Woman King
This is the same song that's available on Sub Pop's
Iron & Wine page
.
There are a few more older tracks there also for download.
Another good place for downloads is
Hellthy
. They have a free download of "Woman King", too.
It's good to see a talent such as this garner so much exposure. And once you have a listen you'll see what the fuss is all about.