(Note: this review will be updated with links to the individual issues as they are solicited. Updated 02-03-05 with Previews and Wizard previews and a new link.)
Oh... my...
Proof that
Grant Morrison
isn't washed up after all.
I just read Seven Soldiers of Victory #0 and it was found to be... very good.
Great introduction of characters, incredibly "new-reader" friendly and... best of all... it tells an entertaining story!
I actually want to see what's happening next.
It appears that Morrison works best on characters that aren't predefined. If he played role-playing games, he'd most likely be making his own characters rather than playing with pre-generated heroes. Looks like it holds him back if he has to bend his stories around a character that's pretty much been chiseled in stone.
That's why Doom Patrol worked. Why Animal-Man worked.
And why JLA and X-Men, while not bad, did not measure up to his best works.
And it's why Seven Soldiers
works
.
I just wonder if he can keep the interest up throughout the entire run.
The "entire run" is an ambitious
30-issue maxi-series
, comprised of seven 4-issue mini-series and two bookends.
The line-up goes like this:

February 2005
Seven Soldiers of Victory #0
-art by J.H. Williams (of
Promethea
)
A devastating global threat is on its way - one never imagined nor prepared for. It consumes entire civilizations and leaves behind only ruins. It razed Camelot and bombed the Rama kingdoms back to dirt. It strip-mines and enslaves whole cultures. Its hunger is unstoppable; its origins, unspeakable. Now this devouring empire of cruelty-without-limits has set its sights on the treasures of the 21st century.
Like a plague of locusts, the terrifying Sheeda are returning to harvest the Earth. All that stands between our world and these destroyers are the mysterious "Seven Soldiers" of legend. Seven men and women with extraordinary abilities and big problems must lay their lives on the line for the future of humankind. Seven reluctant champions must arise and somehow work together to save the world...without ever meeting one another. How? Where? Who? There's only one way to find out.
In an ambitious new storytelling venture, writer Grant Morrison and a group of top artists combine their talents to redefine the super-hero concept for a new century. Entertainers, losers, victims, exiles, wannabes…the stars of SEVEN SOLDIERS are a long way from anyone's ideal of a traditional costumed hero. But they just may be our only chance of survival.
Who lives? Who dies? Who washes the dishes? Who betrays humankind to its once and future Enemy? Get the answers to these questions and many more in seven hard-hitting, fresh and wildly imaginative miniseries featuring KLARION, MISTER MIRACLE, FRANKENSTEIN, ZATANNA, THE GUARDIAN, BULLETEER and SHINING KNIGHT.
The SEVEN SOLDIERS saga comprises seven 4-issue miniseries and two bookend Specials - all which may be read independently but combine to tell a colossal 30-part tale of death, betrayal, failure, joy, loss, romance, triumph and redemption. As a new generation of super-heroes grapples with a harsher, weirder world, Morrison combines dazzling super-hero action and serial fiction with horror, mystery, epic fantasy and gothic pulp to carve out a new corner in the DCU.
With a gigantic, interweaving cast of characters-many drawn from DC's incomparable history and reimagined by Morrison and his collaborators-Including vampire knights, crippled ex-super-heroes, subway pirates, puritan death machines, liquid nitrogen-blooded assassins, deathless Mafia dons, wounded gods, angry fiancées and talking winged horses, the universe of the Seven Soldiers is rich in wonder, drama and hardcore action.
This groundbreaking mega-series begins with a 38-page complete adventure, SEVEN SOLDIERS #0, that introduces readers to their twilight world and establishes plotlines that will reverberate throughout the entire megaseries.
In issue #0, illustrated by master storyteller J.H. Williams III (PROMETHEA), Shelly Gaynor is the grand-daughter of Golden Age hero the WHIP. She's revived the old family business and is turning her experiences as an urban crime-fighter into a best-selling book.
But when Shelly answers an ad to join the aging crimebuster Vigilante and his new team of "Seven Soldiers" in the hunt for an ancient monster haunting the deserts of the southwest, her super-hero dream becomes a terror-trip into the heart of an undying nightmare.
SEVEN SOLDIERS: A mystery spanning generations and millennia. A story unlike any other. Welcome to a whole new world in the DC Universe.
On sale Feb 23 o 48 pg, FC, $2.95 US Edited by Peter Tomasi
(
Preview 1 -PDF
) (
Preview 2
) (
Preview 3
) (
Preview 4
).


March 2005
Shining Knight #1
-art by Simone Bianchi
Get ready for a miniseries best described as The Lord of the Rings meets The O.C.! Visionary writer Grant Morrison and artist Simone Bianchi (Marvel Italia's Conan the Barbarian, The Ego Sum Trilogy) continue the 30-part SEVEN SOLDIERS saga with the 4-issue SEVEN SOLDIERS: SHINING KNIGHT, a modern fantasy epic!
Though twilight and red ruin falls on Camelot, the Knights of the Broken Table stand ready
to battle the forces of the Beyond. Little do they realize that the only one within their spent and bloodied ranks who can save what remains of their world is 16-year-old Sir Justin, a teenaged warrior who, with his winged horse Victory, finds himself thrust into the maddening world of the 21st century to save the future of all mankind! And the best place to start the battle? Sunset Boulevard in Los Angeles, of course!
On sale March 9 o 1 of 4 o 32 pg, FC, $2.99 US Edited by Peter Tomasi
(
Preview 1
) (
Preview 2
) (
Preview 3
) (
Preview 4
) (
My Review
).
Guardian #1
-art by Cameron Stewart
Grant Morrison joins forces with collaborator Cameron Stewart (CATWOMAN) for a 4-issue miniseries that weaves a tale of Guardian, a hero who's the living masthead of the Manhattan Guardian newspaper - the only newspaper that lives up to its credo: "We don't just report crime…we fight crime!"
After the accidental shooting of a child that resulted in his handing over his badge, ex-cop Jim Harper tries to get his life in gear by applying for the job of The Guardian after spending more than a year dealing with personal demons. But Jim quickly learns to be careful what he wishes for, as the new Guardian finds himself in a pitched battle with Subway Pirates! Will he survive the ride of his life through the unknown subterranean world of New York?
On sale March 23 o 1 of 4 o 32 pg, FC, $2.99 US Edited by Peter Tomasi
(
Preview 1
) (
Preview 2
) (
Preview 3
) (
My Review
).


April 2005
Zatanna #1
-art by Ryan Sook
The mind-bending SEVEN SOLDIERS saga continues with another intriguing bimonthly 4-issue miniseries by puppet-master Grant Morrison and artists Ryan Sook (ARKHAM ASYLUM: LIVING HELL) & Mick Gray (PROMETHEA) that introduces Zatanna! The sorceress attempts to boost her profile by taking part in a reality TV show that sees her undergoing a rigorous detox on a lush island near Themyscira! Here, Zatanna tries to get her head together and figure out what to do with her life. She's come to an emotional impasse as her magical powers are waning, resulting in an obsession with finding her father's lost magical journals hoping they contain the secrets she needs of his black art.
On sale April 6 o 1 of 4 o 32 pg, FC, $2.99 US Edited by Peter Tomasi
(
Preview -PDF
) (
Preview 2
) (
Preview 3
) (
Preview 4
) (
Preview 5
) (
My Review
).
Klarion the Witch Boy #1
-art by Frazer Irving
Grant Morrison is joined by artist Frazer Irving (Necronauts, THE AUTHORITY) for another amazing bimonthly 4-part miniseries in the SEVEN SOLDIERS saga!
Deep in the bowels of a subterranean city, young dissenter Klarion and his cat familiar Teekl have been hand-picked as potential recruits to the Submissionary Order, a group made up of brutal lawgivers who maintain order with the help of their familiars. But Klarion's nature is to rebel against the powers-that-be, which isn't a good idea in such a tightly controlled society - one in which people who don't conform are swiftly judged and burned at the stake!
On sale April 20 o 1 of 4 o 32 pg, FC, $2.99 US Edited by Peter Tomasi
(
Preview -PDF
) (
Preview 2
) (
Preview 3
) (
Preview 4
) (
Preview 5
) (
My Review
).


May 2005
Shining Knight #2
Grant Morrison and artist Simone Bianchi continue the exciting bimonthly tale of the Shining Knight lost in the 21st century!
Justin - the Shining Knight - is now without his trusty steed Victory! After escaping from a police car on Sunset Boulevard, Justin is left to wander the toxic, sun-drenched backstreets of Los Angeles. Delirious and confused, it seems to Justin that the Sheeda won, creating a world of poison air and synthetic life! Now, with magical broadsword in hand, the Knight's crusade begins anew!
On sale May 4 o 2 of 4 o 32 pg, FC, $2.99 US
(
Preview 1
) (
Preview 2
).
Guardian #2
Grant Morrison's towering SEVEN SOLDIERS saga continues in a bimonthly miniseries with stunning art by Cameron Stewart (SEAGUY)! The Guardian's encounter with the rival subway pirates NoBeard and AllBeard turns into a wild race through a labyrinth of secret Masonic subway tunnels underneath New York City. Their goal? To find a radioactive gem known as the Foundation Stone of Manhattan, an object that the dreaded Sheeda wish to possess and use for their own nefarious ways!
On sale May 18 o 2 of 4 o 32 pg, FC, $2.99 US



June 2005
Zatanna #2
Grant Morrison's SEVEN SOLDIERS saga continues! The Amazons drop off Zatanna and Vicky in Las Vegas where Zatanna is scheduled for a magic show. But they're sidetracked when they meet the old magician Ali Ka-Zoom, the Merlin of the Ghetto, who warns them about the threat of the Sheeda and reveals a prophecy of doom!
On sale June 1 o 2 of 4 o 32 pg, FC, $2.99 US
(
Preview 1
) (
Preview 2
)
Klarion the Witch Boy #2
Grant Morrison and Frazier Irving continue the exciting SEVEN SOLDIERS saga in this bimonthly miniseries! Pursued by the Horigal, Klarion reaches the Foundation Stone - the great underground market as seen in The Guardian - only to find the Sheeda and the evil Queen Morgayne waiting for him in the dark, dank tunnels!
On sale June 15 o 2 of 4 o 32 pg, FC, $2.99 US
(
Preview 1
) (
Preview 2
)
Shining Knight #3
Justin and his winged horse Vanguard are faced with earth-shattering choices as the evil Morgayne releases an unstoppable monster whose only mission is to seek out and destroy the Shining Knight! Meanwhile, in a nightmare landscape, the dreaded Sheeda plunder and strip the smoking ruins of Avalon and prepare to send their spoils to the hungry citizens of the Gothic Imperium.
On sale June 29 o 3 of 4 o 32 pg, FC, $2.99 US


July 2005
Guardian #3
Grant Morrison and Cameron Stewart's thrilling tale of the Guardian continues! Century Hollow - a secret project in the American heartland - is an artificial town created and maintained as a very unusual experiment. A bizarre terrorist group seizes control of the project, and only The Guardian has any chance of saving the people of Century Hollow. The only question is:
Should he?
On sale July 13 o 3 of 4 o 32 pg, FC, $2.99 US
Zatanna #3
Grant Morrison, Ryan Sook & Mick Gray continue a magical adventure of Zatanna! Zatanna and Misty travel with Ali Ka-Zoom to join forces with the Undying Don Vincenzo and face three Days of the Dead. The Sheeda Hordes have begun to reveal themselves prior to conquering the Earth, and Zatanna's caught in the middle of a siege which could decide the fate of humanity! And there's a terrible shock for Misty when the spider cavalry arrives!
On sale July 27 o 3 of 4 o 32 pg, FC, $2.99 US


August 2005
Klarion the Witch Boy #3
The SEVEN SOLDIERS saga continues to unfold! Klarion has escaped his underground home in Limbo Town and found himself on the streets of New York City. Can the Witch-Boy avoid the clutches of the evil Mister Melmoth and the Deviant Ones, or will he welcome them?
On sale August 17 o 3 of 4 o 32 pg, FC, $2.99 US
(
Preview
)
Shining Knight #4
The SHINING KNIGHT's saga concludes with the terrifying showdown between Justin and Galahad, the Perfect Knight, the last survivors of the Round Table! Brought back from the dead and corrupted beyond measure, the Perfect Knight has become a monstrous cannibal in the service of Gloriana, the evil Queen of the invading Sheeda hordes. Can Justin survive in the face of an onslaught from the deadliest of all his former allies? And can the lessons he has learned in the 21st century prevail against the power of Summer's End and the fury of the Perfect Knight?
On sale August 31 o 4 of 4 o 32 pg, FC, $2.99 US
September 2005
Guardian #4
More must-see mysteries of the SEVEN SOLDIERS saga unfold as the GUARDIAN miniseries finale builds toward the epic conclusion in SEVEN SOLDIERS #1!
Is a broken, embittered Jake Jordan ready for "Sex Secrets of the Newsboy Army"? Who were Captain 7, Kid Scarface, Baby Brains, Ali-Ka-Zoom, Chop Suzi, Li'l Hollywood and Millions the Mystery Mutt? What was the vow they made as children outside the United Nations building? What did they do that was so wrong - and why will the entire world suffer in an alien hell if the Guardian makes the wrong decision this time ?
On sale Sept 8 o 4 of 4 o 32 pg, FC, $2.99 US
Mister Miracle #1
-art by Pascal Ferry
Grant Morrison's amazing SEVEN SOLDIERS saga continues with a 4-part miniseries featuring art by Pasqual Ferry (ADAM STRANGE)! A young Shiloh Norman is all grown up, and now, with the help of his Mother Box - an alien computer - he has become the world's coolest escape artist, a cross between David Blaine and Puff Daddy. After a hallucinatory encounter with the being called Metron, the formerly aimless and dissatisfied Mister Miracle finds himself with a new mission in life. He now believes he has evidence of an apocalyptic cosmic war being fought through human agents on Earth! Shiloh's seen the light. He knows
the score - and he may have lost his mind!
On sale Sept 21 o 1 of 4 o 32 pg, FC, $2.99 US
(
Preview 1
) (
Preview 2 -PDF
).
October 2005
Zatanna #4
Zatanna and Misty search for the 7 Unknown Men of Slaughter Swamp, only to find themselves face to face with a menace beyond imagination! The unexpected return of an almost unstoppable Golden Age master villain could spell doom for the Mistress of Magic unless she gets her groove on fast. Will Zatanna regain her powers in time for the ultimate magical duel with the ultimate cosmic criminal ? With a storyline leading directly into the epic SEVEN SOLDIERS #1, the answer may not be what you expect!
A Soldier must die - will it be Zatanna?
On sale October 5 o 4 of 4 o 32 pg, FC, $2.99 US
Klarion the Witch Boy #4
Klarion has reluctantly returned to his lost colony of Puritans in Limbo Town, far below New York City, to warn them of an impending invasion. Instead of being welcomed as a savior, he is captured, tried, and sentenced to be burned alive. Can Klarion and Teekl convince the people of Limbo Town that not only their entire way of life is in danger, but their whole world?
A Soldier must die - will it be Klarion the Witchboy?
On sale October 19 o 4 of 4 o 32 pg, FC, $2.99 US
November 2005
Bulleteer #1
-art by Yanick Paquette and Michael Bair.
The Seven Soldiers saga continues as Yanick Paquette (TERRA OBSCURA) & Michael Bair (IDENTITY CRISIS) join writer extraordinaire Grant Morrison for an amazing new
4-issue miniseries! Obsessed with the idea of becoming a famous super-hero and preserving his beautiful wife's youth, Professor Lance Harrower invents Smartskin - a steel-hard living fiber which bonds with skin collagen. When his experiments go awry, Harrower is suffocated under a coating of steel skin. His wife Alix survives the horrific accident only to find herself an outcast and a freak. Now jobless, alone, and encased in super-hard, living metal, she is a truly reluctant super-human.
What happens when you get powers and abilities beyond those of mortal men but don't want them? Find out in "Ballistic: How the Bulleteer Began"!
On sale November 2 o 1 of 4 o 32 pg, FC, $2.99 US
Frankenstein! #1
-art by Doug Mahnke.
Doug Mahnke (JLA) joins Grant Morrison for an amazing new miniseries in the Seven Soldiers saga! A bizarre butterfly store opens its doors in a small American town. Pretty, popular teenagers are mysteriously transformed into self-loathing, awkward nerds. A boy with the power to see human thoughts becomes the unwitting vessel of an ancient curse, and deep beneath the sunny sidewalks, something stirs and wakes and opens ancient eyes.
Witness the triumphant return to the DCU of one of fiction's most enduring characters as Grant Morrison and Doug Mahnke introduce a steam-powered, gun-totin', Milton-quotin' Frankenstein monster you'll never forget! Meet time's executioner as he hunts down the impossible menaces that threaten humanity from beyond reality!
On sale November 16 o 1 of 4 o 32 pg, FC, $2.99 US
December 2005
Mister Miracle #2
-art by Billy Dallas Patton.
The deadly snares of evil gods are closing around Shilo Norman, as one young man's troubled soul becomes the battleground of epic forces in Part 2 of Grant Morrison's psychedelic sci-fi adventure! Shilo Norman - a super-rich, super-famous, super escape artist - has become an unwitting pawn in the deadly Game of the Gods! As Metron, the Traveller and Death, The Black Racer, gamble for his very existence, Mister Miracle must somehow survive the "Drive-By Derby"! And even if he outwits the Man-Eating Cars of Apokolips, is he ready - are you ready? - for the soul-destroying terror known only as Dark Side?
On sale December 7 o 2 of 4 o 32 pg, FC, $2.99 US
Bulleteer #2
Who killed the Seven Soldiers? More shattering secrets of the Seven Soldiers are revealed in this special issue which unfolds directly from events in the best-selling SEVEN SOLDIERS #0! Together with a dying FBI agent, the Bulleteer investigates the disappearance of six bargain-basement Super Heroes, uncovering mysteries dating back decades...and beyond. Alix Harrower finds herself drawn deeper into a world she wants no part of as her journey into the dark underbelly of the hero dream brings her face-to-face with her first super-villain! Plus, from the grave - the return of the Vigilante!
On sale December 21 o 2 of 4 o 32 pg, FC, $2.99 US

January 2006
Frankenstein! #2
The Monster's on Mars, following a trail of death and human misery to the demon-haunted Tombs of B'aal B'zaar and the largest seam of gold in the solar system! Carnivorous horses, a new kind of slave trade, the secret origin of Melmoth the Wanderer and the unstoppable menace of Red Zombies await!
On sale January 4 o 2 of 4 o 32 pg, FC, $2.99 US
Mister Miracle #3
-art by Freddie Williams II.
There's a new Super Escape Artist in town! Baron Bedlam is here to steal Mister Miracle's thunder with a death-defying act that must be seen to be believed! What is the secret of the Living Waveform? Who are the Plastic People? Shilo Norman faces the dark night of the soul when he finally confronts Dark Side! With the most shocking conclusion you will see in a comic this year, you must not miss MISTER MIRACLE #3!
On sale January 18 o 3 of 4 o 32 pg, FC, $2.99 US
February 2006
Bulleteer #3
Working as a bodyguard at a super-hero convention, Alix Harrower - the Bulleteer - finds herself enmeshed in the bizarre relationship between Li'l Hollywood, a faded super-impressionist, and her sidekick. As one tragedy unfolds, a second threatens when Alix finds herself in the sights of the mysterious, undead super-archer - Spyder - assassin for hire!
On sale February 1 o 3 of 4 o 32 pg, FC, $2.99 US
Frankenstein! #3
When a bizarre toxic spill defies the laws of nature and threatens the whole human race with destruction, it looks like even Frankenstein could be in over his head, and the Monster must turn to an amazing new ally for help. Enter The Bride and meet the incredible agents of the Super Human Advanced Defense Executive!
On sale February 15 o 3 of 4 o 32 pg, FC, $2.99 US
March 2006
Mister Miracle #4
Ever wonder what life might have been like if you'd chosen a different path? The Omega Effect can take you there!
Join Shilo Norman, Super Escape Artist, as he faces the ultimate challenge! The Life Trap is here, and the only way out is in a box. Can Mr. Miracle beat the odds that say death is 100% certain? Find out in "Forever-Flavored Man" and prepare to witness…the Final Escape!
A Soldier must die - will it be Mr. Miracle?
On sale March 8 o 4 of 4 o 32 pg, FC, $2.99 US
Bulleteer #4
In the miniseries finale, the Bulleteer finally faces her husband's mysterious online lover in an unforgettable battle to the death! Sally Sonic is an embittered British super-teen from the 1940s with the mind of a miserable 75-year-old woman trapped in an immortal 16-year-old body. Can Bulleteer survive her first slugfest, or could this be the tragic end of her career as a super-hero before it even begins?
A Soldier must die - will it be the Bulleteer?
On sale March 15 o 4 of 4 o 32 pg, FC, $2.99 US
Frankenstein! #4
Frankenstein has tracked the swarming Sheeda to their lair - and what he finds will shock him! The truth about the villains is revealed at last as the Monster goes on a rampage the likes of which has never before been seen in comics. It's Frankenstein vs. the Fairies - and the end of SEVEN SOLDIERS! This issue leads directly into April's SEVEN SOLDIERS OF VICTORY #1, the mindblowing conclusion to this expansive saga!
A Soldier must die - will it be Frankenstein?
On sale March 29 o 4 of 4 o 32 pg, FC, $2.99 US
April 2006
Seven Soldiers of Victory #1
Does the debut of an incredible new superteam begin here…or is this the end of the line for the most bizarre group of heroes ever known? Fresh from their hit miniseries, seven unique and unlikely soldiers must join forces to save humanity from its own future! The only catch? They can never meet!
Klarion, Zatanna, The Manhattan Guardian, Bulleteer, Mister Miracle, Frankenstein and The Shining Knight return for the epic conclusion to the Seven Soldiers mega-series, as the apocalyptic threat of the Sheeda intensifies to a terrifying, unexpected climax.
Which of the Seven Soldiers will betray the others? Which two will cross paths? Who will find love at the end of the world? Who will change forever? Who will face the ultimate villain? And which Soldier will die?
For all the answers, and much, much more, don't miss SEVEN SOLDIERS #1!
On sale April 5 o 32 pg, FC, $2.99 US
The Soldiers in the first issue (#0) aren't the same as the ones who appear in their own mini-series. In #0 the team consists of The Vigilante (an actual member of the original Seven Soldiers), The Whip (granddaughter of the Golden Age hero with the same name), Boy Blue (an update on the Little Boy Blue concept), Dyno-Mite Dan (legacy to the Golden Age characters TNT and Dan the Dyna-Mite), Gimmix (update to Merry, Girl of 1000 Gimmicks) and Spyder (a mysterious assassin who specializes in spiders, update on the "Alias the Spider" character). The seventh member bailed out before the story began.
I don't want to give too much away but the story is rather unconventional and ends surprisingly.
Morrison's writing is on par with his best stories and not too over-the-top. And Williams' art is fantastic. His work in this issue draws comparisons to Chaykin and Sienkiewicz but he keeps it all his own. I reccomend at least reading this first issue.
Collected Editions:
Volume 1
Volume 2
Volume 3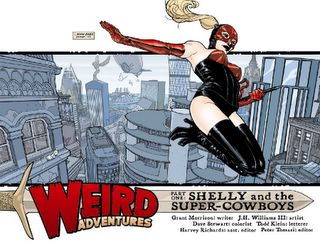 Here's a nice
interview
with Morrison from last summer that I've unearthed, conducted by
PopImage
. Page seven (how fitting) deals more with Seven Soldiers.
And here's an
interview
that Newsarama did with Peter Tomasi, the editor of this whole big event.
Here's a new
interview
with Morrison.
For more information about the various mini-series check out this
article
.
Barbelith's Annotations
Another Seven Soldiers shrine.
The original solicitation in Previews:
Preview art from Wizard Magazine:
Also, here's the seven page preview from DC's Horizon flyer: